Ed Sheeran, the international music sensation, is poised to make a triumphant return to India in 2024. This time, he's bringing his much-anticipated '+ – = · x Tour,' also known as the 'Mathematics' concert. After much anticipation, Sheeran has officially confirmed his upcoming visit to India, promising an unforgettable musical experience for his Indian fans.
Event Highlights: The India leg of this highly anticipated tour will mark the conclusion of his extensive Asian journey. Scheduled for March 16, 2024, the concert will be hosted at the iconic Mahalaxmi Racecourse in Mumbai. Adding to the excitement, the acclaimed singer-songwriter Calum Scott will grace the event as a special guest. The show's production is a collaborative effort between Ed Sheeran's team and BookMyShow. Tickets for this extraordinary musical experience will go on sale to the public on October 27, 2023, with pre-sales launching on October 25.
A Familiar Return: This won't be Ed Sheeran's maiden voyage to India; in fact, he has a history of successful tours and unexpected Bollywood encounters in the country. Let's reminisce about the past and explore Ed's previous visits.
The 2015 Bollywood Adventure: Ed Sheeran embarked on his first-ever concert in Mumbai back in 2015. After his performance, he was keen to immerse himself in the world of Bollywood and was hosted by Indian actor Abhishek Bachchan and renowned filmmaker Farah Khan. The star-studded party featured the glamour and glitz of Bollywood, with notable figures like Malaika Arora in attendance. The iconic photograph of Abhishek Bachchan and Ed Sheeran became a sensation. Farah Khan, in a tweet from 2015, shared her experience of making a new friend in Ed Sheeran. Notably, Farah Khan admitted later that she had no inkling of Ed Sheeran's global fame at the time.
🏟️ | Here are the 2024, Mathematics Tour Asian leg! Japan, Thailand, Singapore, Malaysia, Indonesia, Philippines and India! pic.twitter.com/70dMhpCcHg

— Ed Sheeran Chart (@edonchart) October 20, 2023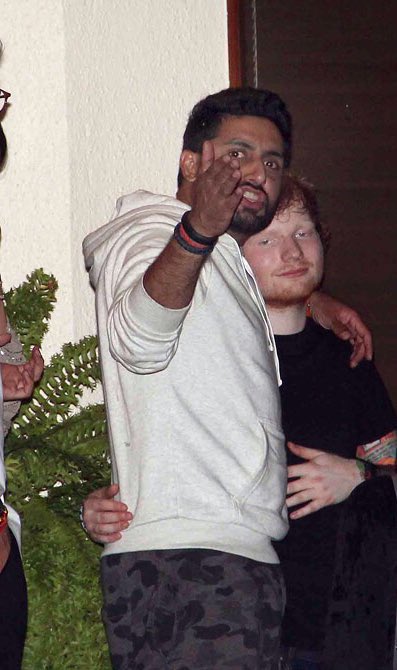 The 2017 Divide Tour: The Iconic Blue Kurta: Fast forward to 2017, Ed Sheeran returned to India with the Divide Tour, held at the Jio Garden grounds in Mumbai. This time, Ed chose a more traditional approach, sporting a light blue kurta. He serenaded the audience for over 90 minutes, performing more than 15 songs from his albums "Divide," "Multiply," and "Plus." The concert was a resounding success, drawing over 10,000 enthusiastic fans, and remarkably, there were no leaks of any Bollywood party rendezvous.
In conclusion, Ed Sheeran's much-anticipated 'Mathematics' concert in India in 2024 promises to be a spectacular event. While Ed's earlier visits to the country had their share of memorable moments and surprises, it's evident that his return to the Indian stage is eagerly awaited by fans and music enthusiasts alike. Get ready to witness sheer musical magic as Ed Sheeran makes another indelible mark on Indian soil.