Series Name – Money Heist Season 5 Part-2
Cast: Álvaro Morte, Úrsula Corberó, Pedro Alonso, Miguel Herrán
Where to watch: Netflix
Ratings: 4 out of 5 stars
The second part of the fifth season of the popular Spanish drama web series Money Heist has been released by Netflix and it has a total of five episodes.
Story
Tokyo's death breaks the Professor and he loses control of the situation. This gives Alicia Sierra a chance to escape. At the same time, Sagasta is also saddened to lose all his 6 soldiers but still decides to complete his mission. Meanwhile, Rio (Miguel Herran) raises questions about good and bad karma, while Colonel Tamayo is constantly stooping down to win against the Professor. In such a situation, the only question that comes to mind is whether the team will now be successful in committing the biggest heist ever and come out of it alive?
Review
Money Heist is an amazing series. It has a storyline that you cannot blink even for a second. Combine it with great performances and you got a masterpiece. The best thing about Money Heist is that it will not give you a chance to get bored. As the first part of the final season had already been released months back, Part 2 of Money Heist was already expected to be spectacular.
Spain has given a series to the whole world in which there is suspense, drama, thrill, emotion, there is romance, there is action, there is sci-fi, and whatnot, you name it and every aspect will be seen in this series. Full marks to the writers and directors of the show. While the performances are great, it's the direction that keeps everything together. The Season 5 of Money Heist has been directed by Colmenar and in biggest USP has been that he has added several aspects to his story. You will a lot of things happening in the story simultaneously – flashbacks, fights, firing, and more. The good thing is that your attention is never going to deviate from the story. In this way, the whole story has been told that the only thing the makers want is that you keep sitting, biting your nails. You may also note that this part focuses more on backstories and less on the inside of the bank.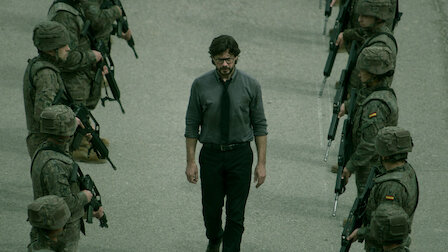 Additionally, you will not get up because the performance of the actors will force you to. Many characters have remained in the series since the first season – Álvaro Morte alias The Professor, ÚrsulaÚrsula Corberó alias Tokyo, Itziar Ituño alias Raquel, Fernando Cayo alias Colonel Tamayo – the list is long. Every character has a story, it has a different angle and all of them have done a brilliant job in playing the character. Everyone has been given a role and they have played it well. It can be said that these characters were made for these actors. That's why fans know the professor, not Álvaro Morte. People praise Tokyo but not Úrsula Corberó.
Verdict
Be it the story, dialogues, cast, or direction, there's just one word – spectacular. The only thing that can be said about this series and season is that do not leave it under any circumstances. Go watch it.