Ten years in the making. One of the largest starcasts we have ever seen. A movie which determines the fate of the MCU. A movie which brought fandoms together. Infinity War is finally here.
The Avengers, the Guardians of the Galaxy and Doctor Strange, all must team up to fight against the biggest villain of the MCU, which has been foreshadowed for so long – the titan Thanos, who seeks to obtain all 6 infinity stones for himself.
Ratings: 4/5 Stars
Avengers: Infinity War Review
Joe Russo and Anthony Russo had to deal with a star cast containing the likes of RDJ, Chris (Pratt, Evans, and Hemsworth) and Benedict Cumberbatch. A movie with such a large cast would become a bit tangled at some point, and even Infinity War is not free from small knots in the plot. While it is surely not the best Marvel Movie ever made, it is surely among one of the best.
Infinity War brought together the Avengers and the Guardians of the Galaxy, and it was unavoidable that some characters would get less importance and lesser screen time than their counterparts. These actors have played their roles for a long time now, and it is no surprise that each one of them has nailed their role. What is very welcoming, however, is the role of Thanos played by Josh Brolin.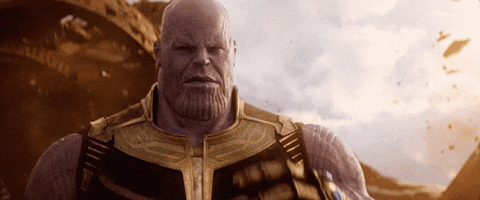 Thanos is not shown as a universe-conquering tyrant, and the directors and Josh have made efforts to see that the audience understands what Thanos thinks. At some points in the movie, you would be tempted to sympathize with Thanos, and even cheer for him a bit. As compared to previous Marvel villains such as Hela and Ultron, Thanos does not seek a kingdom for himself or kill for the fun of it. This makes it easier for the audience to relate to the character.
The plotline is a tad too complicated, which is just a side effect of having every superhero in the same movie, and there are some issues with the plot, that may have an explanation in future movies, or they may be an issue with the writing of the movie. Marvel boldly kills off quite a lot of central characters it has established over the years leading towards this film.
Despite the heroes being seriously overrun, the film still manages to have some trademark Marvel humor, which, so far, separates it from their rivals, DC. The movie does not bore you even when the plot gets entangled, and it never gets too heavy on your mind to handle. The music of the movie isn't anything special, which isn't surprising, given Marvel's lack of interest towards background scores and music.
Infinity War, along with being the central movie of the MCU, also acts as a transitional movie to newer ideas that Marvel is preparing itself for. Marvel is preparing to introduce many new heroes, such as Captain Marvel, in Avengers – 4. Going by the plot of this movie, Avengers – 4 is clearly not a sequel to Infinity War, but will surely be related to events after the war, given that the remaining Marvel movies for 2018 – Deadpool 2, Venom and Ant Man and the Wasp, have no direct relation with Infinity War.
CONCLUSION:
Infinity War could have been better, but it could also have been a lot worse. It is a movie which can be counted as one of Marvel's finer works, but not the finest. It kills off many of our beloved characters, so you shouldn't take any favorites with you to the theatre. The story does get a tad too complicated at times, and you may also feel overwhelmed due to a large number of significant central characters all coming together.
Infinity War is a sign of Marvel gearing up to move past Phases 1,2 and 3, into newer, unexplored areas. It joins the Marvel Universe very well and shows us many new, exciting possibilities for the upcoming years.